With each new season comes an opportunity to refresh our spaces and create more style, beauty, and functionality in our homes. With that in mind, I've been scouting out the spring 2023 home decor trends and design styles to share with you today.
Before we get into the top interior design trends for spring, there really are no "rules" for decorating your home, other than doing what makes you happy and works best with your lifestyle and preferred design style.
Moreover, by looking at your spaces with a fresh perspective, you can often breathe new life into your home simply by using pieces you already own.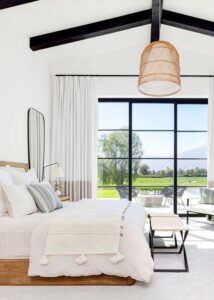 If you'd like to see all the interior design and home decor trends for this year, you might be interested in my post, 2023 Home Decor Trends and Design Styles.
What are the top home decorating trends for spring 2023?
Several popular trends for interiors are coming to the forefront for spring, including restorative outdoor and indoor living spaces, soft color palettes and furniture styles, luxurious spaces, coastal influences and more.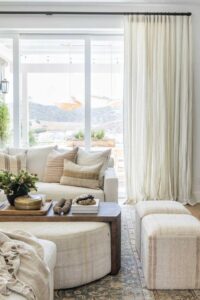 From the growing popularity of natural materials; to comfortable, intentional design; to a more versatile use of spaces, there are plenty of reasons to love decorating your home for spring and summer this year.
Spring 2023 Home Decor Trends
Trend 1: Restorative Spaces
We all want our spaces to feel like a retreat, so for spring 2023, the sensory experiences of our homes will become more important than ever.
As people update their homes in 2023, they're taking into account things like lighting, sound, and tactility, designing spaces to encourage restoration and relaxation.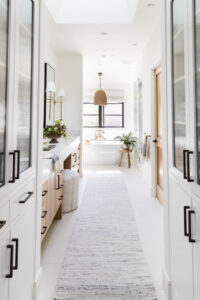 Last year, when we updated our master bathroom, I wanted to make this space feel like a calming retreat, so we included a lot of white, a freestanding tub, a padded stool, and a soft bath mat for warmth underfoot: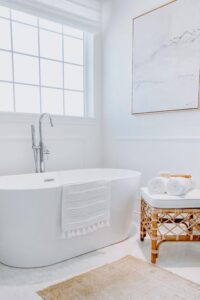 You can easily create restorative spaces in your home by incorporating cozy furniture, soft throw blankets, ambient lighting, and color palettes to create the mood you're going for.
Spring Trend 2:  Luxurious Bedrooms
The next spring 2023 home decor trend is luxe spaces — especially luxurious bedrooms — which makes sense when you look at the other trends on this list.

As we continue to rethink how we use our spaces, designing them around maximum comfort and functionality, our bedrooms are becoming calming, resort-like spaces where we can relax, recharge, and restore.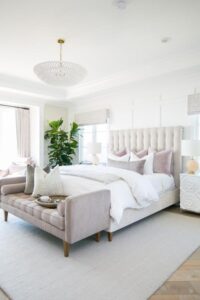 In spring 2023 and beyond we'll see bedrooms features luxurious bedding (soft linen bedding is hugely popular right now), comfy mattresses, elegant upholstered headboards, and dedicated spaces for relaxing, yoga, or meditation.
Trend 3:  Bringing Nature Indoors
With the advent of spring, our love for bringing the outdoors in will continue, but in a more sophisticated way, with the incorporation of plants (biophilic design) and natural materials like rattan, cane, leather, jute, wicker, ceramics, and woven lighting, furniture, and decor.
Miniature greenhouses and contemporary conservatories are another look that will be trending in the coming year, whether that involves adding a plant-filled spot in a sunny corner of your home or creating a garden-inspired space with patterned wallpaper.
Color trends for spring 2023
Tying in with the above trend, a muted nature-inspired palette of soothing greens and timeless blues will take center stage for spring and summer 2023.
Luxe Interiors
Since natural color schemes reduce stress, increase productivity and creativity, and generally make us happier, these colors tie in beautifully with the rest of the trends on this list.
Jean Stoffer Interior Design
For a timeless look, I always return to blue as a color that promotes calmness, positivity, and elegance in a space.
Barrow Building Group
Blue works well with all other hues and tones, bringing a lightness and reassuring quality to our homes that will resonate with our lifestyles throughout spring and summer 2023 and beyond.
This beautiful space incorporates many of this spring's decorating trends, including natural elements, a soft blue color palette, and coastal grandmother style.  From Courtney Egli:
cane bed – blue and white patterned rug – white nightstands
Trend 4:  Coastal Grandmother Aesthetic
Tying in with the above, last year's Coastal Grandmother trend is still going strong and influencing on 2023 spring and summer interior design trends.
Pure Salt Interiors for Katrina Scott
Incorporating a mix of fresh modern coastal and Hamptons style interiors inspired by Nancy Meyers movies, coastal grandma style embraces a relaxed, elevated lifestyle — even if you don't live near the coast or aren't a grandmother.
Amy Kalikow Design
It's probably no surprise that I love this look!  In coastal grandmother interiors, you'll see plenty of easy-care white slipcovered furniture, neutral hues of the sand and sea, and natural and organic elements — all of which speak to a relaxed, more intentional way of living and decorating.
Trend 5:  Curves
In spring 2023 and beyond, we'll continue to see plenty of soft, rounded furniture; curved backs on chairs; sloped arms on sofas; rounded waterfall corners on countertops, desks, and consoles; cushy ottomans; and curved accent pieces.
Bone Made – similar dining chairs – similar dining chairs
Studio McGee – curved sofa
If a single space could encompass most of the spring 2023 home decor trends, it would be this stylish kitchen from Studio McGee.  Calming, light and airy, with sleek modern light fixtures, and incorporating natural elements like plants, warm woods, and curved rattan barstools, this kitchen is both timeless and on trend.
As you'll see in the spaces below, curves can bring a trendy and youthful look to a space — or add a stylish and elegant touch — depending on how they're used.
Mindy Gayer Design
Marshall Erb Design
Kate Marker Interiors
Studio McGee  – Floral Pillow Cover – Stripe Pillow Cover – Chair – Mirror – Lamp
Trend 6: Minimalism
For the last few years, interior designers have promoted minimalism as a way to reduce visual clutter and create a calming aesthetic in the home, and this trend is resonating more than ever as we enter spring 2023
The upside of minimalism is that it makes spaces more livable by enhancing their main purpose, making it easier to focus and relax.
Trend 7:  Creative Solutions for Working from Home
Whether you currently work from home or are thinking of setting up a home workspace designing a beautiful and functional home office can help your mind stay focused and clutter-free, which opens up mental space for creativity, new ideas, and greater productivity.
Amber Interiors
If you're short on space, consider adding a home workspace in a nook, closet, or other forgotten space in the home.
The home office is actually one of the most gratifying rooms in the home to design and decorate because it offers so many opportunities to be creative.  This is the perfect spot to incorporate a design style or color scheme you might not use in other areas of your home.
Ames Interiors
Trend 8:  Outdoor Living
In spring 2023, homeowners are focused on turning their outdoor areas and patios into mini vacation destinations for spring and summer outdoor living, as evidenced by the popularity of outdoor fireplaces and fire pits, swimming pools, TVs, and raised-bed gardening.
A gas fireplace is the perfect focal point for this beautiful outdoor gathering spot next to the swimming pool.  From Living Gardens Landscape Design:
People are creating their own private backyard oases, with enclosed patios, privacy fences, and creating luxuriously-decorated patios and pool areas.
Pure Salt Interiors
Teresa Hlista Design
This lovely sitting area has a fresh, modern coastal vibe.  Here's a similar outdoor sectional.
Design Works, via Style Me Pretty – Photo by Ryan Garvin
Here's a look at our covered patio and outdoor seating and dining area in our back yard.  Adding outdoor curtains and string lights (and plenty of plants and flowers) changed the entire look and feeling of this space.  Now we want to hang out here all the time!
Incorporating these spring home decor trends in your home doesn't have to break the bank. In fact, adding just one or two new elements can give your home an entirely new look – whether it's a curved accent piece or one or two luxurious pillows in the bedroom.