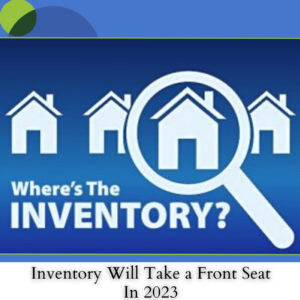 Nicole Rueth –
While mortgage rates were the conversation for 2022, I believe inventory will take a front seat in 2023. This is the topic that gives me pause. Inventory ended the year with 4,757 homes for sale. While still lower than in 2019, this number is more in line with 2014-2019. The difference from then to now is that the average mortgage rate from 2014 to 2019 was 4 percent, not the 2.75 percent lows we saw in 2020-2021. 24 percent of all mortgages are now locked in below 3 percent. Another 41 percent are between 3 and 4 percent. Keep in mind that 38 percent of homes don't even have a mortgage. That means 65 percent of all homes have a rate below the ones we see this year. This "rate lock" in addition to the rapidly declining permits and starts; will further support stable home prices.
As rates drop, sellers, i.e., "would-be buyers," will put their houses on the market. If they choose to test the market by overpricing, Days on Market will continue to increase from December's 30 median days in the MLS. However, if they come out aggressive, understanding the market shift, they will see multiple bids and quick sales. On average, homes that had to drop their price stayed on the market twice as long as homes priced right.
Also, do not expect any pop in inventory from distressed sales. Short sales and foreclosures will remain limited. Suppose we see a massive 15 percent decline in home prices nationwide. In that case, we will still only see 3.7 percent of our mortgaged properties dip into negative equity territory, with the majority purchased just last year. Low locked-in mortgage rates and monthly payments will support even those who lose their job from losing their home.
Source: https://www.dmarealtors.com/