This was a big story last in the DBJ as Austin-based OJO Labs ranked Denver as the 5th least affordable area to live in the country. Only San Francisco, San Diego, Miami, and L.A. were considered more unaffordable. OJO Labs uses a ratio of home sale price to median household income to come up with its affordability score.
The average cost of living in Denver is $2093, which is in the top 3% of the most expensive cities in the world, ranked 324th out of 9294 in our global list, 224th out of 2202 in the United States, and 5th out of 28 in Colorado.
The median after-tax salary is $4891, which is enough to cover living expenses for 2.3 months. Ranked 109th (TOP 1%) in the list of best places to live in the world and 28th best city to live in the United States, and 1st most liveable city in Colorado. With an estimated population of 683K, Denver is the 24th largest city in the United States.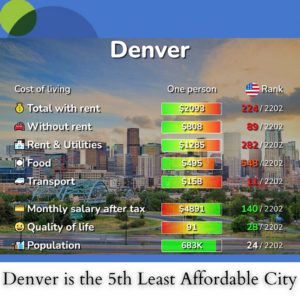 Source: https://livingcost.org/