Because there's so much more to Portuguese wine than port and Madeira.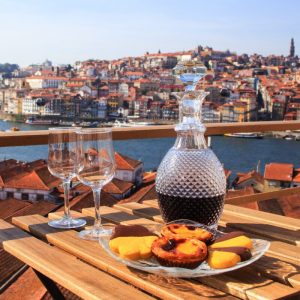 Just as we've noticed interior design becoming increasingly personal over the last few years, with more of us leaning into nostalgia and individual taste to direct our decorating ventures than whatever is currently trending on Pinterest, the world of wine is becoming more approachable and exciting as people prescribe less to rigid rules and explore different regions and varietals for themselves.
"I could like a wine, or someone like Robert Parker could say it's 100 points, but if you don't like it, it doesn't matter," says Anne Marie Faustino, director at the Wine School at World of Wine (WoW) in Porto. "I think the younger generation is more confident to say if they like something or not. Personal preferences are above all the most important part of the experience, and that's what I hope people take away from classes at our wine school."
Between an increased interest in out-of-the-ordinary wines and an explosive growth in tourism across Portugal, the country's vast portfolio of wines and unique regions have become popular topics for writers, critics, shop owners, and enthusiasts alike in recent years. Faustino says this growth in interest and demand has helped make Portugal's wines of higher quality and more accessible across the world.
"In terms of quality for the price, Portuguese wines are exceptional," says Faustino. "After living in Italy for years, I can drink really good-quality wines that are 20 to 30 euros here versus 100-something equivalents in Italy. Plus, all the indigenous grape varieties lend to such unique bottles that you can't find anywhere else."
Faustino says that Portugal is home to 250 (and counting) indigenous grape varieties across its 31 wine regions that are as distinct as the country's terrain. Here, we're highlighting six essential wine regions to know and how to experience them on your next wine- and design-centric getaway or from home via your favorite neighborhood wine shop.
Douro Valley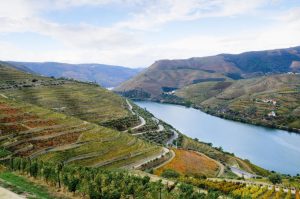 Douro Valley is the most famous of Portugal's wine regions, as it's home to port, the country's most famous wine. The Unesco World Heritage Site is deeply rooted in Portuguese history and offers stunning views, making it a must-see for tourists of all kinds. The valley is home to both the Port and Douro regions, and Faustino says they are known for producing medium-bodied reds, often blends, with notes of red and black fruits.
Whether or not you like port wine, Faustino says there are so many varieties to try in this area that you can't find stateside, it allows you to become part of such an important aspect of the country's history. Port was created out of the country's trade with England (they have the longest standing trade relationship between any two countries) and a need to preserve the wine's freshness for the voyage back to Great Britain, thus the addition of brandy to create this one-of-a-kind beverage. Faustino says England's relationships with other major wine-producing countries like France and Spain were strained at this time, but they couldn't live without their wine, so port became en vogue for the English, and it eventually became the first demarcated wine in 1756, though it has been produced for nearly 2,000 years.
"The absolute best way to experience this region is to get on the iconic flat-bottomed rabelo boats and take a tour up the river before dining in Porto or Vila Nova de Gaia," says Rui Abecassis, Co-founder and Partner at Olé & Obrigado, a wine import company representing family-owned wineries in Portugal and Spain. "These two charming cities grew up around the thriving wine industry." He notes Douro is one of Portugal's most prestigious wine regions.
What to Sip
Faustino recommends trying Taylor's Port, a port wine institution that dates back to 1692. The brand is known for producing long-lasting vintages that are structured but boast a delicate fruitiness. Graham's Port is another iconic port brand that has remained a family business since its founding in 1820. And if you're fortunate enough to be visiting the beautiful Douro Valley, no port experience is complete without a visit to the historic and elegant Ferreria Cellars. Of course, these wines are known for being paired with the dessert course, but Faustino encourages doing your research to find a port that pairs well with a meaty main, like a filet, and other heavier entreés.
For Douro varietals besides port, Abecassis advises seeking out Luis Seabra's fantastic age-worthy wines. Seabra's sustainable, terrior-driven vinos are a great way to explore the Douro Valley from the comfort of home. Old-world wine aficionados will adore his Indie Red 2018. Abecassis says once you try his wines, you'll have no doubt why Seabra and his peers are putting Portugal on the wine world's map right now.
Vinho Verde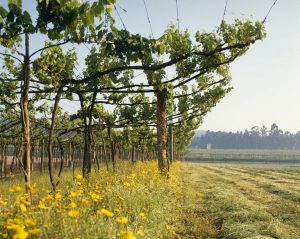 While port wine was the first vino to be demarcated, Dária Tchubukova Ferreira of Vinho Verde Viticulture Commission says that Vinho Verde wines became an important export for Portugal long before the mid-18th century. She says there are records of wines going through the historic Viana do Castelo port as far back as the 14th century, when the region's growers and producers started making red wine. The port was eventually closed by the city of Pombal, giving way for port wine to explode in popularity as Portugal's relationship with England expanded.
"It wasn't until the 1960s and '70s that producers started to grow more white than red grapes because they started to feel the potential of what wine could be from here," says Ferreira of a region that is now famous for its white varietals. The region is quickly achieving Duoro Valley–level fame for its young, fresh white wines that offer a complex insight into the region's widely varied terrain.
"Though most of our popular wines are young white wines, now this region has two styles of wine," says Ferreira. "The young style represents 80 percent of production, but there is a premium style that is usually from a single varietal, a bit more intense and complex than the traditional whites that now represents 20 percent of our production and keep growing."
Ferreira says these two profiles, all the soils, terroir, and microclimates in each subregion (there are nine in Vinho Verde), plus all the indigenous grape varietals, allow this region to make such unique and distinct wines. It borders the ocean, has the River Niño to the south, the River Duoro to the north, and a central mountainous region that blocks the Atlantic winds from reaching the inland vineyards, creating quite a vast landscape where the same grape can produce completely different wines just miles apart. Ferreira notes Vinho Verde gets the most rainfall per year of all Portugal's wine regions, and its grapes are well-equipped to handle the rising temperatures due to climate change, which is sure to make it a wine that will continue to grow in demand and popularity for years to come.
What to Sip
Some of Ferreria's picks for premium whites include Portal da Calçada 2020 Vinho Verde, which she says is a lovely gastronomic pick, as it has a nice acidity and subtle notes of orange flower and peach. She also recommends Joâo Portugal Ramos Alvarinho 2019, a vintage that's great to age and complex enough to pair with fish or a white meat. One of the most popular and easy-to-find picks is Aveleda Loureiro & Alvarinho 2019, which features delicate floral notes and pairs excellently with fatty fish and spicy dishes, like Thai food. And if you're visiting, don't miss a stop at the beautiful 18th-century manor-turned-hotel, Casa de Seizm, for lunch and a wine tasting.
Dão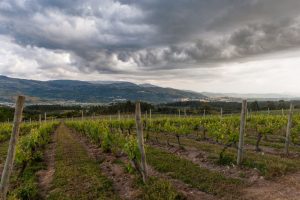 Faustino says the Dão wine region is lesser known but journalists and critics often refer to the Encruzado grape that is widely used here as "the Chardonnay of Portugal," making it a great entry for those who already love the French varietal. However, she notes that it's hard to compare Portuguese wines to other regions, as they have so many indigenous grapes and such a diverse terrain. Abecassis recommends exploring Dão wines if you're already a fan of old-world reds from France and Italy.
Those interested in the investment world of wine should consider learning more about the Dão region, as collectors recognize it as a hotspot for high-quality reds that will age well. Three popular options are the medium-bodied Dão Alfrocheiro wines that have red berry and spice flavors, and the full-bodied Dão Jaean (also known as Mencía), and Dão Touriga Nacional. The former features tart berry flavors and a high acidity, and the latter features dark fruit flavors with hints of chocolate and a medium acidity.
What to Sip
Casa de Santar Dã0 Reserva 2014 is a highly rated blend that is an excellent representation of the region. If you're looking for single varietal wines, Taboadella is known for making spectacular bottles (including whites) made with Dão's classic grape varieties. Abecassis advises exploring the wines from the father-daughter team at Quinta da Pellada. The highly rated Quinta da Saes Tinto 2017 is an exemplary representation of the region's elegant wines.
Beira
While Beira actually consists of two regions, Beira Atlântico and Beira Interior, Faustino's curriculum focuses primary on the coastal part of the region, which she says is lesser known than the aforementioned regions. Baga, a red grape, is the primary variety used in this region and historically known for making highly structured, full-bodied reds with lots of tannins that required a decade or more of aging into refinement. As the region's winemaking techniques have evolved significantly over the years, Beira is also now recognized for its pink sparkling wines and light-bodied reds that resemble Pinot Noir.
What to Try
Enjoy the new wave of Baga grape production with Marquês de Marialva Baga Rosé Sparkling, which features notes of fresh red berries, or lean in to the old-world style of production with the award-winning and indulgent Lusus Reserva 2018.
Alentejo
Wines from the Alentejo region in southeastern Portugal are becoming hotter commodities on the export market, making them easier to find stateside. The region is large, with a growing number of modern wineries, and Faustino says it's famous for producing a variety of reds and whites. She says Alentejo is especially known for reds that are medium-to-full-bodied and fruity yet well-structured.
Tinto Alentejo is the most popular red wine and is typically offered as a blend utilizing Aragonês (Tempranillo), Trincadeira, Castelão, Alfrocheiro, and Alicante Bouschet grapes. White wines are known for ranging from light- to full-bodied, with the best-known type being Branco Alentejo. Alentejano is another popular choice for whites and reds that also features non-indigenous grapes, like Syrah.
What to Try
When it comes to Tinto Alentejo, Tapada do Chaves Reserve Red 2014 is the perfect place to expand your palate with a bold, dry red with notes of wood, as these wines are often aged in oak barrels. An Alenejano star can be found in Herdade da Maroteira Cem Reis Reserva Syrah 2018 for a special evening, while the Esporão Reserve White 2019 is an excellent white for those wanting a taste of the Mediterranean.
Abecassis recommends exploring the wines of Antonio Maçanita, whom he says is changing the face of the wines made in this beautiful region. FitaPreta is Maçanita's estate winery in Alentejo, and the FitaPreta Tinto is a crisp, medium-bodied red blend that will have you coming back for more.
Lisboa
Lisboa is one of Portugal's most dynamic wine regions, and as it runs through the country's capital city, its wines have become a popular export choice, shipping to wine shops around the world. One of the best things about this region is that these wines are of exceptional quality, but the prices are shockingly low compared to the top wines of nearby countries. Lisboa is also incredibly varied, making it a playground for oenophiles of all kinds.
Some of Lisboa's most popular red wines are the high-tannin Alenquers and full-bodied Arrudas that often include popular, non-indigenous grapes. There is a treasure trove of white wines here, from the refreshing, low-alcohol Torres Vedras to the high-quality, age-worthy Bucelas.
What to Sip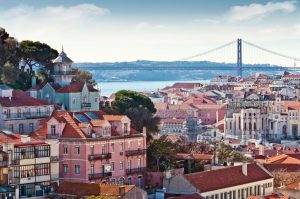 Pedro Marques of Vale da Capucha in Torres Vedras is one to watch in Lisboa right now. His organic wines from Portugal's indigenous grapes have received wide acclaim, and his floral, mineral Fossil Branco 2018 is an excellent one to start with. Wines from Quinta de Chocapalha are also a must-try, and if you're visiting the area, it's a worthy stop for an intimate tasting with picturesque views. The winery offers an array of indigenous and international reds and whites, offering insight into native Portuguese varietals and the region's unique takes with classic grapes. The Vinha Mãe Reserve Red 2012 is a highly lauded option and a fantastic way to explore the quality of Lisboa wine.
"Portuguese culture is devoted to all things handcrafted and artisan," says Abecassis. "Look at the porcelain and ceramics, leather and wool goods, furniture, and traditional filigree jewelry, and you'll understand why so many of the top producers like the ones we represent are sustainably farming, manually harvesting, labeling bottles by hand, and making their wine in ways that, yes, are incredibly labor-intensive, but also produce the highest quality wines possible."
Source: https://www.veranda.com/