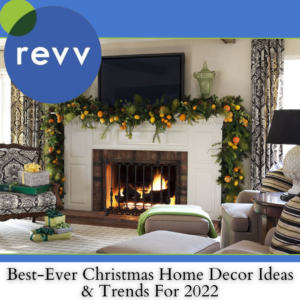 It goes without saying that we're all wishing that Christmas 2022 will be a very special celebration. Hopefully, this year may mark a time when things can return to some kind of normality.
If you're already getting into the festive spirit and thinking about how to decorate your home in a way that you and your family can enjoy, we've rounded up a list of the best Christmas home decor ideas for Christmas 2022.
Christmas Decorating Trends Of 2022
These current trend themes show a whole range of Christmas decorations for the green sector. Let's walk through some decorating trends for 2022: Opulent & Crafted, Lush & Precious, Natural & Organic, and Classic & Elegant.
1. Opulent & Crafted
Durable materials and warm brown tones are focused on this trend. Both of these give a feeling of familiar elegance and security. Moreover, rich, soft as well as shining materials create a luxurious and opulent feast.
2. Lush & Precious
A lush and precious Christmas theme sets accents in your home with its blue and green tones. With a lot of glamour, attention to detail and historical touches, it convinces those who are looking for something special.
3. Natural & Organic
The desire for simplicity, for nature, and sustainability is the focal point of this pure theme. Especially during the holiday season, we look for a retreat with comfort and surround ourselves with soft shapes that soothe our senses. The combination of natural materials and colors such as greenery, matte gold, and candlelight creates a cozy festive mood.
4. Classic & Elegant
Green and red are becoming increasingly important, particularly during the Christmas season. They are the perfect match for those who are longing for classic elegance. Various shades of red combined with dark green, cream, and gold are the basis of classic shapes and timeless design.
5. Nature-inspired decor
Are you looking for nature inspiration when decorating the mantelpiece this year? Use fresh evergreen boughs, garlands, and wreaths combined with in-season citrus like lemons, tangerines, and oranges. These will give your home a beautiful natural look.
Source: https://hayooo.com/